The Information Communication Technology Division (ICTD) continuously strives to enhance and modernize the IT infrastructure in the Centre. ICTD is responsible for providing updated information and technology related facilities to NCPOR staff. The operations cover network, computing, software and end-user support. The ICTD in-house and manages various critical servers and also provides security solutions. The group is also involved in the development of software for use at NCPOR and Research activities for the development of Computer Visualization for geosciences & climate science.
A campus LAN (Local Area Network) has been established at NCPOR providing seamless connectivity to over 250 computers in the Campus. The network utilizes a mixture of optical fibre, UTP cables, Wi-Fi and switches. Internet access is provided through the National Knowledge Network internet connectivity at a speed of 1 Gbps.

IT Infrastructure and Facilities
National Knowledge Network (NKN) Internet connectivity of 1 Gbps and also BSNL Internet connectivity of 10 Mbps

TelePresence System (TPX)
Establishment of a High Definition Tele-Presence System
A High Definition Tele-Presence (TPX) Room has been established at NCPOR (under the NKN project) facilitating high-resolution face-to-face communication with MoES and all its outlying offices.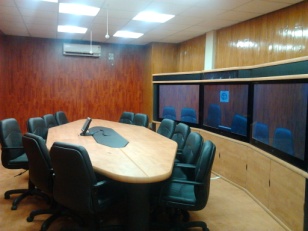 NCPOR Intranet Website
Development of NCPOR intranet site (http:// 172.27.10.90:10000/ ncaorIntranet) displaying the latest official circulars, notices, announcements etc. Several user-friendly interfaces also provided on the site for lodging PC/Printer-related complaints, telephone directory, pay-slip of all staff, room booking, vehicle requisition, commonly used forms, NCPOR Virtual Tour, Live Temperature at Maitri etc.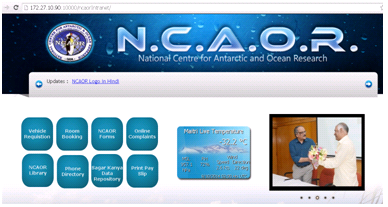 Data Archival for AWS Data from Maitri & Sagar Kanya
Automation script developed to get the AWS Data from Maitri as well as Sagar Kanya on an hourly basis into our local Data Archival Server and data are stored in systematic approach.
National Polar Data Center (NPDC)
National Polar Data Centre (NPDC) is an authoritative platform for managing and sharing data of Indian polar science. It covers data from a broad spectrum of disciplines, including polar oceanography, polar solar-terrestrial physics, polar glaciology, polar resources and environmental science, polar biology and ecology, and polar atmospheric science, etc. It has become a characteristic centre of "India's Data-sharing Network of Earth System Science". Polar ice-snow, a carrier of global climate and environmental changes, plays an important role in the research on the global changes.Till now all our previous Indian Scientific Expedition to Antarctica (ISEA) had successfully conducted studies on glaciers and snow ice chemistry from Antarctic, Arctic and Southern Ocean Expedition (SOE). The metadata pertaining to these studies will form part of the Data Portal. In addition the Data Portal will host atmospheric data from Arctic, Antarctic and Southern Ocean Expedition (SOE). NCPOR has already started its preliminary activity of collecting Metadata from the scientific members of the XXVIII Indian Antarctic Expedition (2008-2009).
Features
The National Polar Data Center (NPDC) provides the following features to its end users and stakeholders
The purpose of the NPDC is to facilitate national and international information sharing. It enables users to locate and obtain access to Antarctic science, global change and related Earth science research data sets. The NPDC database holds descriptions of these Antarctic science data sets, covering all aspects of Antarctic sciences, thereby creating a global one-stop-shop for scientific research in and about Antarctica. One can use the search box, or select from the available keywords to search for data and services.

Data archiving, data retrieval, data analysis, quality control, processing and long-time storage.
RESEARCH AND EDUCATION
Research on Computer Visualization for Geosciences / Geospatial applications and Climate Sciences using open source technologies related to Visualization.

Students from various colleges come here to do their projects as a part of their curriculum.